X-Tour: The Search for Bigfoot
October 24, 2015 @ 9:00 am

-

4:00 pm

|

Free
Event Navigation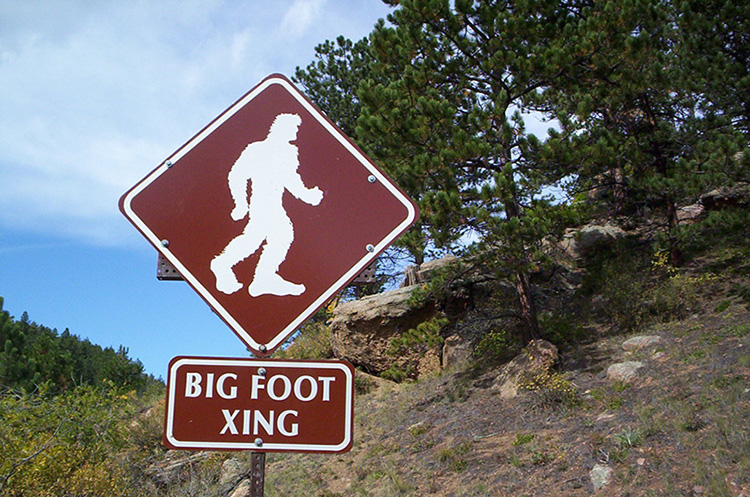 I'll never forget the first time I saw it. I was just a kid, and had only heard scary Bigfoot campfire tales or seen shows on tv. It was on a pale autumn night, in a cold and damp forest, as our family's campfire was dying out. A huge hairy man-like creature about 8' tall emerged from the woods and stood looking right at me. It's grunts and heavy breathing sent chills down my spine. I smelled a foul odor, and feared for my life. He quickly moved toward me, I screamed as he grabbed me. I'll never forget that face. My Uncle Lou from Jersey.  Though he wasn't an actual Bigfoot, he was pretty close, and I've been hooked on Bigfoot lore ever since.
We've planned a backroad adventure to explore one of the most active Bigfoot regions in the country. The wilderness near Estacada and the upper Clackamas River areas promise twisty roads, beautiful scenery, historic sites, and of course many Bigfoot sighting spots. The route is on both paved and well-maintained unpaved back roads. There will also be a "high-clearance" option for those with extra suspension height.  Hint: no need to wash and polish before THIS event!
Join us as we are guided by regarded Bigfoot researcher and author of the book The Oregon Bigfoot Highway, Joe Beelart. Science teacher, popular speaker, and author of The Locals (another respected Bigfoot book), and all around pleasant guy Thom Powell might come along too.
We'll meet up in Estacada at Harmony Bakery at 8:30 AM for their delicious breakfast. Around 9:15 we'll do our drivers' orientation, then depart at 9:30. We'll make a number of stops along the route to hear about nearby Bigfoot sightings, colorful area history, and amazing geology. The club will provide a subway sandwich picnic lunch.
You will have the opportunity to buy an autographed copy of Joe's book, which is a great read. You can also purchase it online to read before the tour, and Joe will autograph it for you.
Come join authors Joe Beelart and Thom Powell for a day of adventure and discovery along some of the "Squatchiest" backroads in America.
More info:
The tour route is about 85 miles long to the end; about 110 miles out and back from Estacada. There are no stores or gas stations on the route. Gas up in Estacada and bring any other snacks, drinks, rain gear, medicine, etc. you may need. If you have a spare tire be sure to air it up. We will bring an extra spare tire, shovel, and tp if anyone needs it. The gravel road sections are very well maintained and are no problem for regular cars. If you don't want to do any gravel there is a "bail out" option which will still allow you to do over half of the tour.
Map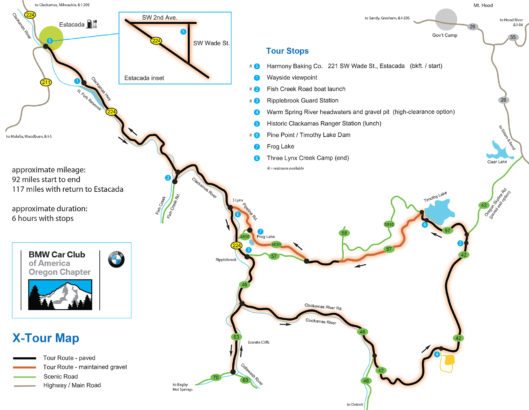 Download as a PDF