10th Annual BMWCCA Oregon MotorFest
September 7, 2019 @ 11:00 am

-

3:00 pm
Event Navigation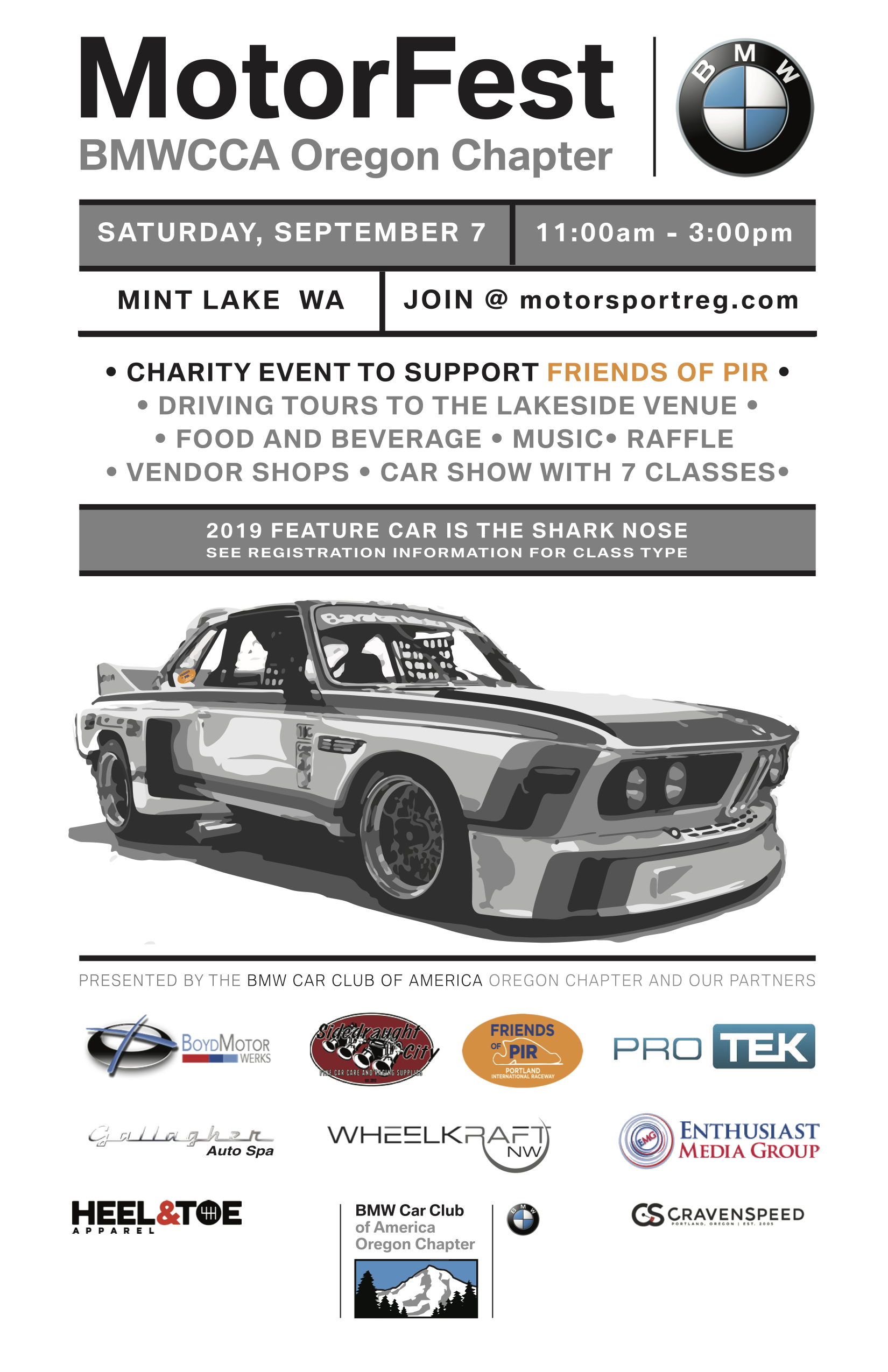 Registration Ends on Thursday Sept 5th 2019
If you missed registration please come to the event gate at 11am Saturday morning Sept 7th with $20 cash, details below.  
Register Now
Reserve your spot now for the 10th annual BMWCCA Oregon MotorFest, Saturday, September 7, from 11am to 3pm, and join the BMW Car Club of America Oregon Chapter¹s largest event of the year. This is our 10th annual MotorFest event and this year's MotorFest will once again be held on an exclusive private grass venue, along the sunny shores of beautiful Mint Lake in Yacolt Washington, a short drive north of Vancouver.  MInt Lake is a specially designed competitive water ski lake with an amazing park-like setting.
MotorFest is our chapter's annual fundraising event for charity, and this year we will be giving to  Friends of PIR, preserving Portland's rich motorsport heritage. $5 of your $20 per car entry will go directly to the FOPIR organization to provide much needed equipment and maintenance to our backyard public-park road course and event grounds.
The day begins with 2 epic MotorFest road tours to the private MotorFest lakeside venue.  Starting points will be offered for this year's tours, and  both tours will be self-guided, with accurate and detailed route sheets provided at the morning driver's meeting.  Please bring a two-way radio, along with your passenger/navigator, to help guide you along the scenic and twisty route through southwest Washington.
The Portland group will depart from Jubitz, the self proclaimed World's Best Truck Stop, located at 10210 N Vancouver Way, Portland, OR 97217.  Suggested arrival time is 9:15am for check in with Tour Meister Tom Freedman. Driver's meeting at 9:30am and cars will begin departing at 9:45 on the tour route to the lake.
The Washougal group start will be organized at the Starbucks in Washougal, 291 C Street, Washougal WA.  Suggested arrival time is 9:30 am for check in with the Group Leader. Driver's meeting at 9:45am with cars rolling out at 10 am to the lake side show lot.
For cars not on the tour but coming directly to the lake, check-in at the lake will open at 11am.  The address for MotorFest is 16321 NE 379th St. Yacolt, WA.  The address is for a private residential property adjacent to the lake so be sure to look for the MotorFest signs for the entry to the park.
Upon arrival and check in, cars will be parked by classification, followed by lunch and a people's choice car show with 7 different car class awards, music and entertainment by sponsored by Boyd Motor Werks featuring local Pro DJs Rich Ellis, and our world class BMW CCA Oregon Chapter raffle with incredible prizes. A $20.00 per-car entry fee will get you into the lakeside venue, so fill all of those seats! Enytry fee is per car, not per person.
This year's feature car is the iconic generation of Shark Noses. What qualifies as a Shark Nose?  Any of these do; 501, 502, 503,507,Neue Klasse (1600, 1800, 2000),E3 (2800, 3.0),E6,E9 (2.5 CS, 2.8, 3.0, 3.0 CSi, 3.0 CSL),,E10 (1502, 1602, 1802, 2002, 2002ti, 2002tii),E12 (518, 520, 525, 528),E21 (315, 316, 318, 320, 323),E23 (728, 730, 732, 733, 735, 745),E24 (628, 630, 633, 635, M635),E26,E28 (518, 520, 524d, 524td, 525, 525E, 528, 535, M535, M5),Glas,Baur,Alpina, and Hartge.
A no-host Oktoberfest style lunch will be available for $15 per person, and adult beverages for $5 per glass, featuring wine, beer and cider, for those over 21 years old with a valid ID. You can purchase your lunch and drink tickets when you register online or at the venue.
WheelKraft NW will be on-site again this year with their fleet of mobile wheel repair vehicles to take care of your unintended wheel scuffs. If you would like to bring those wheels back to showroom condition, email Dan Hones at dan@cv2020.com to schedule a time slot at MotorFest to have those rollers brought back to original condition.  WheelKraft NW will provide wheel repair services on-site between 11 am and 2pm. Cash transactions required.
Please note: bring cash for all on-site transactions! We will have a Square card reader to process debit and credit card purchases, but weak cellular signal at the Lake may cause slow processing times. Cash will be faster!
Please join us and be part of this annual tradition to celebrate the 10th Anniversary of MotorFest with friends old and new.
Details
Date:

September 7, 2019

Time:

11:00 am - 3:00 pm

Event Categories:

Event Tags:

awards, driving tour, food, lake, motorfest, music, raffle, show, vendors, washington
Organizers
Event Navigation