Rogue River Tour and Jet Boat Experience
June 15, 2018

-

June 17, 2018

|

$70
Event Navigation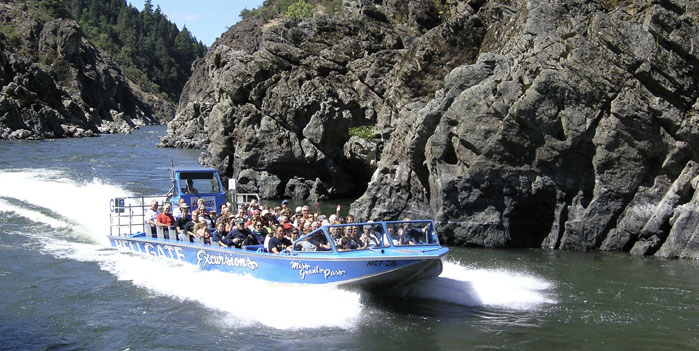 There is still time to sign up!  Members Len Atlas and Florin Baldridge have mapped out a beautiful drive through the Rogue River Valley, and an optional Jet Boat river adventure with dinner from Hellgate Excursions.
The Drive
We will begin the day with a drive through a very scenic part of the Rogue Valley covering about 120 miles. We begin at about 10:30 AM on Saturday June 16th in the parking lot of the Redwood Hyperion Suites in Grants Pass. We'll meet back at the hotel around 3:00 PM in time for the Jet Boat excursion, just next door to the hotel.
Optional Jet Boat Excursion
This optional 4-hour, 36-mile round trip through Hellgate Canyon stops downriver at the guest-exclusive OK Corral. Perched high above the Rogue River, the OK Corral is an old homestead where we'll enjoy an all-you-can-eat country dining experience. The table will be set platters of country-style barbecued ribs and chicken, ranch style potatoes, biscuits, cornbread, and more. Topped off with dessert and accompanied by beer, wine, iced tea, lemonade, coffee and hot tea, soon you'll be crying "enough!"
The jet boat excursion is $70.00 per person, includes dinner and a $2 service fee. All tickets for the jet boat excursion are totally refundable if canceled 48 hours in advance of June 16.
Hotels
The event hotel is the Redwood Hyperion Suites in Grant's Pass. Setup your own reservation by visiting www.redwoodmotel.com or call 888-535-8824.
Or you may stay at any of the other convenient area hotels in Grant's Pass
https://www.google.com/maps/search/hotels+in+grants+pass/@42.4465563,-123.3320634,14z/data=!3m1!4b1
Registration
If you'd like to attend either the driving tour, or the jet boat excursion, or both, click on the registration button below to be taken through the registration process on msreg. If you have any questions please contact Bruce Feller (contact information available at the registration link below).
 We hope you will join us!