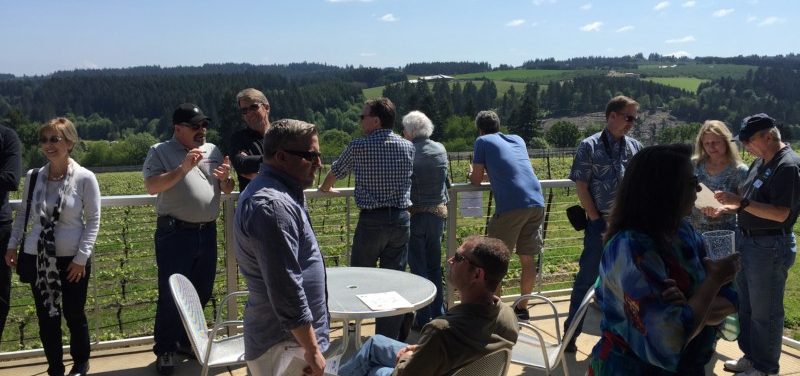 Wine Country Tour Recap
On Saturday, May 2, an intrepid group met at Raptor Ridge Winery on the northern slope of Chehalem Mountain to begin an all-day wine-tasting and fun-driving adventure. The tour drew folks from all around the area, including Zack and Sabrina who made the run up from Bend in their sharp silver Z3 M Roadster. Brian brought out his low-mileage captivating blue E34 M5. Bruce and Barb rolled into the lot in their pristine white E36 M3 coupe. Folks began to assemble, the sun was out, and it was sure to be a fine day to drop the top or slide open the sunroof.
With spectacular weather and abundant sun our host Brandy opened the large glass overhead doors of Raptor's beautiful modern building and began pouring at 11 am. We enjoyed tasting fabulous pinots and Reislings while taking in the vineyard view from the open terrace. Then Buck passed out… maps… and after a driver's orientation the group assembled for the first leg of the drive up to Bald Peak State Scenic area.
Leisurely twisting our way along Mountain Top Road afforded long range views to the Chehalem Valley, the Red Hills of Dundee, and the Coast Range. We arrived at the view point and assembled the cars into a giant crescent of BMW-ness for a panoramic photo op. Every era and style was represented:  Wendie and Chris' cheerful turquoise E10 2002, Rick and Linda's stunning red E24 M6, Mark's elegant silver E39 538iT sport wagon, and Gary and Rae's sleek white E89 Z4 retractable hard-top, just to name a few. Much to everyone's confusion Buck and Alex arrived in Cory and Nancy's uber-sporty interlagos blue E86 Z4 M Coupe, and they pulled up in Buck and Alex's comfortable-yet-capable sapphire black E60 535i. The cat was out-of-the-bag and the swap was revealed. Like parents, both parties were proud of their new acquisitions, yet looked lovingly on their previous progeny.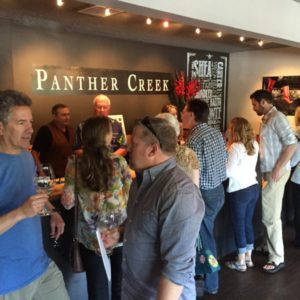 Having satiated everyone's desire for a nice view and "family photo", we departed and picked up the pace through the twisties down to Newberg and on to Dundee for our second stop. We knew we were in good company at Panther Creek when we saw Dale's imola red Z3 M Roadster out front, and Christie and the gang poured out some more liquid goodness for our sampling pleasure. We then rolled down into central Dundee to the Red Hills Market just a few blocks away. Turns out there was a "wine event" going on in town and the market was packed. Nonetheless the crew served our hungry group quickly with creative sandwiches, pizzas, and goodies.
Though the possibility existed everyone would need a nap after two wine stops, lunch, and sunny weather, they were nonetheless ready to roll. As we were heading out, Anh and Carlos surprised us and joined up for the ride to Carlton. (Anh has been in DC with her new job, and we miss them!). It doesn't take long to get into the roller-coaster hills above Dundee. Whoop-de-does, sharp plunges, and banked twisties are sure to excite any driver. The 1 series cars of Janette, Dan and Susan, and Susan and Phil are perfect corner-carvers! After the fast descent into the Chehalem Valley we enjoyed some more bucolic (alcoholic?) scenery and fast sweepers down Laughlin Road and the run to Carlton. We admired John's graceful 335i as it glided effortlessly through the sweepers.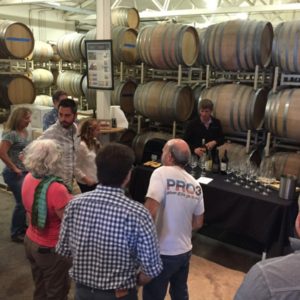 We pulled into the parking lot at Carlton Cellars and somehow no less than five E46 3 series convertibles ended up next to each other… Karen's, David and Michelle's, Vince and Missy's, Carl and Tamara's, and Drew and Corina's. This sparked an immediate photo op with about 10 "directors" figuring out how to get the cars properly arranged. Once photographic nirvana had been achieved, our host John led us through a lovely express flight and discussion of the wines. We then walked around to the Kramer Vineyard tasting room where Sarah poured out their famous sparkling wines along with delightful non-fizzy vintages.
Undeterred the crowd launched forthwith for the very pretty run through Yamhill and back to McMinnville. Historic 3rd Street is both scenic and historic, and rates as one of America's favorite main streets. Joslynn at the Terra Vina tasting room poured out bold, velvety Washington blends. It's a good thing we didn't start with Terra Vina! Also a good thing is that Gem Creole Saloon and La Rambla Restaurant were a short walk down the tree-lined street. Most of the tour group were in for the long haul, and having built up yet another appetite quickly occupied our two reserved tables. Folks raved about the gumbo, chicken, oysters, and jambalaya at Gem and the creative Spanish tapas dishes like braised pork, sautéed clams, coconut shrimp, and flank steak at La Rambla.
We couldn't have asked for better weather, company, roads, wine, and food! The wine country is vast and there are many opportunities for future wine tours with all new routes and stops. Stay tuned for the next one! Cheers, Buck.
| | |
| --- | --- |
| Tour Map | Route Directions |
| | |
Photos
Flickr API error:
Invalid API Key (Key has invalid format)
View media on Flickr