Our Fall newsletter is available for viewing; Thanks Carlos and Anh for putting this together.
Contents
President's Message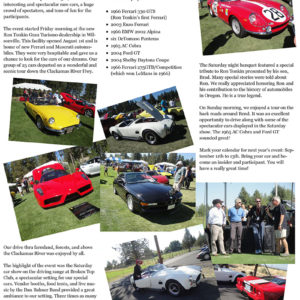 Recap: Musicar Northwest
Recap: M Car Day at Griot's
Election Campaign Statements
Fire In The Barn
Recap: Maryhill Loops Rally
Recap: Waterwerks Spring Ed.
Recap: Freeman Motor Co.
Recap: Oregon Festival of Cars
Recap: DIY your BMW
Recap: Motorfest
Gran Turismo
Welcome, Members!